Weekly Update
LogseqTimes 2023-05-27: Logseq 0.9.8, Logo redesign, Logseq v Tana, Learning with Logseq, Templates, Wallabag Sync and more
The latest Logseq news, updates and thoughts during the past week. Logseq updates, Logo redesign, Logseq v Tana, Learning with Logseq, Templates, Wallabag Sync and more
Hi Everyone,
This week we have a jam-packed release of Logseq Times with updates and walkthroughs to enhance your Logseq journey. Although I personally like the current Logseq Logo, I can understand why a refresh is sometimes needed.
So without further ado and to not delay you sharpening your pencil to submit your ideas (details below), let's see what Logseq has in store for us.  
0.9.8 Release
Features:
Due to some compatibility issues, dropped support for iOS 13
New Version 2 Tables Document
Enhancements / Fixes
Add custom.js to Logseq publishing's app(minor behavior change)
Refactor iOS sharing
I18n: Spanish, Italian
Update version control settings description
Plugin API logseq.api.update_block can preserve properties
Cli tool nbb-logseq scripts now have publishing support for all graphs, not just git-based ones
Restore scroll position new adding newlines in a block
Scroll the view when selecting multiple blocks
Add missing title to opml-export
Whiteboards: fix actions like undo on converted shapes
Broken block refs when cutting or deleting blocks
Can't jump to the correct position when editing number list
Org-mode pages in aliased links not creating pages
Tweak default config.edn
Calculator command on a non-blank line
Fix blocks losing references and disappearing from references panel
Show block bullet when a blank block has children
Add Unicode normalization to file watcher on mobile platforms
Pasting fail on iOS, asset sharing fail on iOS
Mobile UI tweaks
The latest release of Logseq can be downloaded here. For Android (Download the latest .apk) and for IOS, you can download or update Logseq from the AppStore.
---
Publish-SPA / CLI Graph Publish
Version 0.2.0 of https://github.com/logseq/publish-spa, a github action and CLI to publish graphs, was released! This release adds a dark/light action option and fixes bugs related to files not being ignored and hidden correctly. See https://github.com/logseq/publish-spa/blob/main/CHANGELOG.md#020 for more
---
Logseq Logo Rebrand Ideas
Logseq Logo Community Challenge announced
Hey Logseq Community - We launched Logseq 3 years ago, and while our product has evolved, our logo has not. Finally, it's time to change that, and we want to include you, our community members, in our process to find a new face for Logseq! We will be working on a new logo for our product in house, but as firm believers in open source, we're opening up this design process as well. We will be taking submissions over the next month, and awarding cash prizes to our favorite submission!
Briefing: The new logo should represent our product values:
Intuitive Knowledge Management: Information organization should be smooth and access fast as lightning.
Collaborative & Open: Our logo, much like the surrounding competition, should shout from the rooftops, "We're stronger together!"
Privacy & Security: We take data protection seriously. Our logo needs to radiate trust and security.
Accessible & Extensible: From plugins to themes and so much more, we're always striving to make Logseq a foundation for more great things then we could ever imagine.
Empowering Creativity & Problem Solving: We want to inspire a generation of creative geniuses (like yourself). So let creativity run wild with the logo, and inspire the same in others!
We're searching for a logo refresh that can be used on marketing materials (landing page, etc.) and as our app icon across platforms (Mac, Windows, Linux, iOS & Android). Focus on the logo/app icon in your submission, not the brand design system around the logo. Submissions made should work nicely with Radix colors. We have a template here made to present a logo on top of a radix-themed background, which you are more than welcome to use during your design phase, and upon submission:
Timeline:
Submissions open: May 23rd, 2023
Submissions close: June 16th, 2023
Voting period: June 19th - June 23th, 2023
Winner announcement: June 28th, 2023
Check out full details here, and to see previous submissions / submit your own design, click here.
---
Logseq / Tana Pros and Cons
@OneStuttering (Dario) presents a wonderful video on Logseq and Tana.
"In this video I'll explore the similarities and differences between Logseq and Tana, and have a look at Tana's distinguishing features. I'll also discuss where I believe the tools stand out above the other, and share my perspective on the best use case. By the end of this video, hopefully you'll have a better understanding of which tool is right for you, or perhaps the best outcome, how you can leverage them both in the areas that they're strong."
---
Recommendation on using LogSeq for Course (learning)?
OP asks for the best ways to use Logseq when learning from a structured course:  
I have used LogSeq for about a month and I like it a lot. However, I'm going to start taking a course in project management and have no idea how to start labelling and organizing so it will be easy for me to gather everything I've learned.
Basically, the course has many modules and the modules are divided into weeks. I will learn sporadically during the week and be able to assign the text of the block to the course, the module and the week. So let's say I'm at 'week 1' in the course but I'm actually adding some not notes today and in two weeks that belong to 'week 1' one in the course in the journal... How should I tag or link to make this work? Should I use properties? How would you do this?
Some great solutions are offered in response - check them out here.
---
Complete Logseq Templates Guide
Face Dragons, presents Complete Logseq Templates Guide (with Examples).
In the article, they consider the following.   When you first start using Logseq, all the options can be overwhelming. You're trying to take notes and get things done, but at the same time, learn a new app and its quirks. Logseq templates will make everything easier, though. This guide will show you how to make templates and give you Logseq template examples you can use.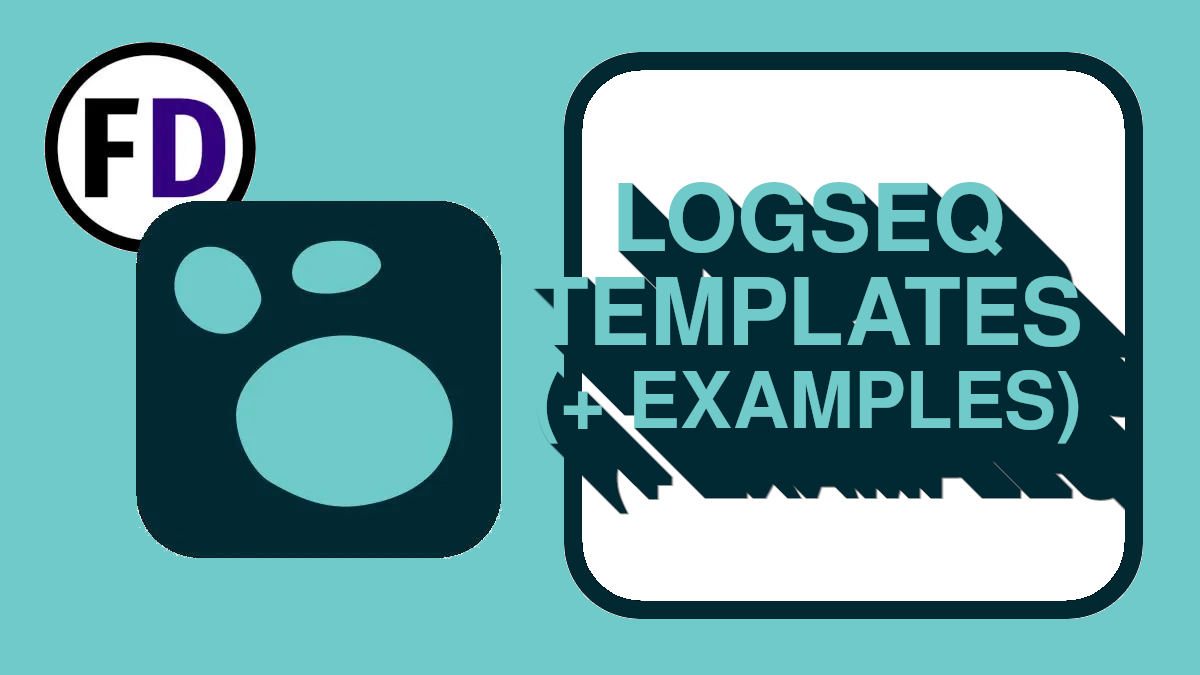 ---
Sync Wallabag Articles with Logseq
Opinionated Wallabag article exporter to markdown format for Logseq. The following requirements were made.
all exported articles go into one markdown file
only annotated wallabag articles are exported
dates are automatically linked
in the article markdown template empty newlines are removed
cache exported articles and use the wallabag's API support for since queries
new articles only appended
---
Stable Diffusion in Logseq
sethyuan created a front-end for a locally deployed Stable Diffusion in Logseq. I think it's particularly useful when you can remotely connect your own computer and make drawings within Logseq.
---
Synchronizing and backing up Logseq data with Syncthing and rclone
Despite the prevalence of cloud-based software, it's often necessary and useful to set up custom synchronization and backup solutions. In my case, this necessity presented itself during my use of Logseq, an incredibly powerful and intuitive privacy-first knowledge management software tool. While Logseq does offer a sync feature, as of now it's only available to sponsors and backers of the project, and includes a disclaimer:
Please note that while it's a public beta, it's still very much a beta test.
In this article I will explore my solution to synchronize Logseq data between devices and additionally back this data up to Google Drive. While the focus will be on the Logseq use case, this information is easily adaptable to general synchronization and backup requirements.
---
Task Management in Logseq
https://twitter.com/ToolsonTech/status/1660664871380213761?s=20
---
10 Tips for Making the Most on Logseq
Face Dragons gives us 10 Logseq Tips You Need in Your Productivity Arsenal.  These include:
1. Top Logseq Tip: Use the Daily Journal
2. Backup and Sync Your Logseq Folder
3. Learn Logseq Markdown
4. Understand Indenting in Logseq
5. Use Headings in Your Notes
6. Use Backlinks as Collection Points
7. Logseq Templates Make You More Efficient
8. Install Plugins for More Features
9. Learn Logseq Hotkeys
10. Update Logseq Regularly
Lots of descriptions of why the above are essential here.
---
Logseq Feature Requests
You can check out the full list of Feature Requests here.
Support parent outline in LogSeq - I was wondering how to include the parents in the flashcard. Something like this as in RemNote:

Position on page should be remembered after restart - Currently logseq remembers position on the page when switching do a different page. Could the position be also restored after application is closed and started again? This would make working with larger files more convenient. Possibly a setting.
Logseq Plugins / Themes
Logseq Flow Nord Theme - A minimal theme that focuses on a clean and sleek interface that's soft on the edges and comes with a large variety of color palettes.
Until Next Time
I hope you found this blog post helpful. If you have any comments or questions, please let me know.
Thanks again for reading.